My Love Is a Beast: Confessions
Alexander Cheves

ISBN: 9780991378036
220 pages, 5" x 7.5"
Publication Date: October 12, 2021
#1 Bestselling Memoir at SPD
#1 Amazon Bestseller
Winner of the Geoff Mains Book Award from NLA International
Available everywhere books are sold, including Amazon, Bookshop, Indiebound, and Unbound Edition Press.
How does the devout son of evangelical Christians, growing up dedicated to mission work in Africa, become one of America's leading sex columnists and a self-avowed slut committed to kink as his new religion? Across his debut book, My Love Is a Beast: Confessions, Alexander Cheves details his path from piousness to faithlessness, and his awakening to the saving power of hedonism. He tells intimate stories of what he sees as the sacred grace of pleasure as he embraces his life as a sex writer, worker, and activist. In stories richly lyrical, boldly erotic, and fearlessly honest, Cheves takes readers on a tour through Savannah, Atlanta, San Francisco, Los Angeles, and New York City. Along the way, he explores the darker corners of queer culture and his own life, highlighting experiences most will have never considered. His rise to national popularity among LGBTQ+ writers gets balanced by his own struggles with and recovery from substance use — and his public embrace of kink and fetish as a belief system, way of life, and identity. In the end, Cheves writes with complete, even shocking transparency and authenticity in the service of shattering sexual shame. Graphic and at times controversial, this book is sure to become a watershed moment among erotic memoirs.
Reviews
"My Love Is a Beast: Confessions is a life-changer ... it will startle you with its frankness and lyricism ... I've read a lot of sexual memoirs ... and My Love Is a Beast is the most honest, shameless, beautiful one I've ever read."
— Janet W. Hardy, co-author of The Ethical Slut
"A much needed and influential voice, Cheves shocks while also liberating and healing readers with his vulnerable account of a journey into sexual authenticity and humanity ... This book cements him as an important author."
— Dr. Chris Donaghue, host of Loveline and author of Rebel Love and Sex Outside the Lines
"Cheves takes us on an unforgettable, hedonistic journey ... the intimacy lies in the author's unflinching, masterful storytelling ... this hardcore memoir flies in the face of the sanitized mores of his contemporaries."
— Chris Andoe, author of House of Villadiva and Delusions of Grandeur
"Conceptually combustive ... exceptionally brazen, epiphanic queer writing ... much akin to ... Jack Kerouac."
— Jim Piechota, Bay Area Reporter
"Cheves excels at portraying sex and place, but more than anything he is a perceptive and shrewd writer about people ... consistently delivering poignant insights and shocking moments of beauty. While perhaps not for the most squeamish readers, the book presents an unapologetic vitality that will linger long after the covers are closed."
— Kirkus Reviews
"A rare memoir ... provocative and poetic ... I loved every uncomfortable minute ... it's a must-read."

— Diane Anderson-Minshall, CEO and Editorial Director, Pride Media and author of Queerly Beloved: A Love Story Across Genders and four novels
"Cheves tells his story of early gay life as it should be told: terrifying, daring, angry, and so very fragile."
— Christopher Harrity, The Advocate
"We need more anti-assimilationist and un-sanitised queer voices like Alexander Cheves."
— Stephan Ferris, aka Blue Bailey, activist attorney and author of Blue Movie
"Cheves has created a work of art that worships at the altar of desire ... Savor every word of this literary bacchanal."
— Race Bannon, author and community leader
"This book is a poignant rebellion."
— Amariah Love, MS, NCC, LPC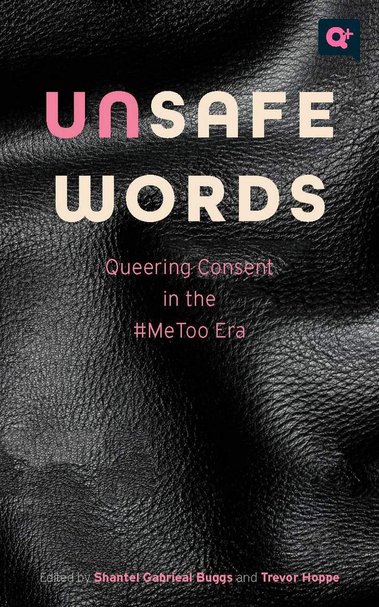 Unsafe Words: Queering Consent in the #MeToo Era
Edited by Shantel Gabrieal Buggs and Trevor Hoppe
ISBN: 9781978825413
Contributors: Angela Jones, Alexander Cheves, Dr. Trevor Hoppe, Jane Ward, Gloria González-López, Anahi Russo Garrido, Mistress Velvet, D.S. Trumbull, Blu Buchanan, Shantel Gabrieal Buggs, James McMaster, Mark S. King, Jo Hsu, Dominique Morgan
180 pages, 12 color illus., 5" x 8"
Publication Date: February 10, 2023
Available everywhere books are sold, including Amazon, Bookshop, Indiebound, and Rutgers University Press.
Queer people may not have invented sex, but queers have long been pioneers in imagining new ways to have it. Yet our voices have been largely absent from the #MeToo conversation. What can we learn from the #MeToo conversation? And what can queer communities teach the rest of the world about ethical sex? This provocative book brings together academics, activists, artists, and sex workers to tackle challenging questions about sex, power, consent, and harm. While responding to the need for sex to be consensual and mutually pleasurable, they resist the heteronormative assumptions, class norms, and racial privilege underlying much #MeToo discourse. These essays reveal the tools that queer communities themselves have developed to practice ethical sex — from the sex worker negotiating with her client to the gay man having anonymous sex in the backroom. At the same time, they explore how queer communities might better prevent and respond to sexual violence, without recourse to a police force that is frequently racist, homophobic, and transphobic. Telling a queerer side of the #MeToo story, Unsafe Words dares to challenge dogmatic assumptions about sex and consent while developing tools and language to promote more ethical and more pleasurable sex for everyone.
Editors
SHANTEL GABRIEAL BUGGS is an assistant professor of sociology and African American studies at Florida State University. Her research on how race, gender, and technology shape romantic and sexual relationships has appeared in such journals as Sociological Inquiry, Identities, and the Journal of Marriage and Family.

TREVOR HOPPE is an assistant professor of sociology at the University of North Carolina, Greensboro. His research analyses the social control of sex by institutions of medicine, law, and public health. He is the author of Punishing Disease: HIV and the Criminalization of Sickness and co-editor of The War on Sex.
Reviews
"We need Unsafe Words: Queering Consent in the #MeToo Era now more than ever. A vital cultural reckoning with sexual assault and harassment brought issues of consent to the forefront, but often oversimplified them. We now need a more nuanced discussion of how consent may be understood and enacted. This groundbreaking collection brings together voices that explore and expand how concepts as such as power, assent, identity, autonomy, and community function in many people's lives. It is imperative reading for everyone — policymakers, scholars, sexual liberationists — who grapples with these questions."
— Michael Bronski, author of A Queer History of the United States
"With this dazzling collection of meditations and provocations from leading scholars in the field of sexuality studies, Unsafe Words offers something we desperately need: a place to ask the queer questions about consent that dare not speak their names. Can consent be queered? What happens when queer and feminist sexual politics clash over questions of consent? How does the prevailing consent paradigm perpetuate the harms of the criminal legal system and thwart more just possibilities for redress? This is a must-read for both activists and scholars of sexual ethics alike."
— Cati Connell, author of A Few Good Gays: The Gendered Compromises Behind Military Inclusion
The Experiment Will Not Be Bound
Edited by Peter Campion
ISBN: 9780991378081
Linen manuscript box with magnetic closure; 426 pages; 9″x 11.25″
Publication Date: November 15, 2022
Available at Unbound Edition Press.
Featuring more than 70 pathbreaking authors, The Experiment Will Not Be Bound highlights celebrated and new voices that, as editor Peter Campion says, share "a particular combination of openness and intention, curiosity and assertion." Indeed, the authors included in this anthology "venture out onto the skinny branches of their own sensibilities," in Campion's words. This book, though, is not just an anthology of some inspired experimental writing but an experimental anthology in form. Being unbound — physically and philosophically — allows the pieces included here to live in any order, to find the fit that works best for any reader, to be read randomly, sequentially, or thematically. This experimental anthology allows the editor to be simply a catalyst and the reader to become the editor for others. How this anthology might be made, unmade, and remade is just part of the experiment at hand. With its contents reordered, this book, as it rests in its manuscript box, might never be recovered. It exists only now; it exists forever in countless combinations. It is a book and not a book at the same time. With a foreword and extraordinary book photography by Catherine Gass, The Experiment Will Not Be Bound is, to a degree, an homage to William H. Gass and his bold, experimental vision for his masterpiece, The Tunnel. This anthology also is an homage to every writer who believes the experiment of writing, of books, of making and unmaking and remaking meaning, must continue, one line, one sentence, one page at a time. Reader beware! Prepare to dig a way through this seemingly random heap of shuffled pages and make this anthology the book you want it to be.
Includes new work from:
Millicent Borges Accardi, Daisy Bassen, Adria Bernardi, Lauren Camp, Chris Campanioni, Danielle Chapman, Alexander Cheves, Norma Cole, Angie Estes, William H. Gass, Colin Hamilton, Robert Hass, Kathleen Hellen, Brenda Hillman, Jay Hopler, Mark Irwin, Brian L. Jacobs, Kimberly Johnson, Susan Kelly-DeWitt, Trevor Ketner, Wayne Koestenbaum, Raymond Luczak, Margarita Meklina, Jesse Nathan, Nicole Robinson, Aimee Parkison, John Rodzvilla, Gerard Sarnat, Alex Wells Shapiro, Maria Garcia Teutsch, Sophia Anfinn Tonnessen, Joshua Weiner, George Witte...and many more.
Editor
PETER CAMPION is the author of Radical as Reality: Form and Freedom in American Poetry; four collections of poems, Other People, The Lions, El Dorado, and One Summer Evening at the Falls; as well as several monographs and catalog essays on modern and contemporary visual art. A recipient of the Guggenheim Fellowship and the Joseph Brodsky Rome Prize, he teaches in the writing program at the University of Minnesota and serves as Executive Editor for Unbound Edition Press.
Reviews
"Although William H. Gass' novel The Tunnel (1995) was published as a traditionally bound book, it was first conceived as an unbound volume, presented as if it were a series of papers shuffled together at random. This concept served as the inspiration for this collection of writing, which pushes the boundaries of what types of writing a single anthology may contain ... A bold, build-your-own anthology with some impressive names and inspired pieces."
— Kirkus Reviews
"What a fabulous thing it is to have an anthology that's also a gorgeous art object. There's nothing else like this right now. And it's amazing to me how, even in troubling times, these poems, stories, essays, (imaginary) reviews, photographs and audiopoems register as promising and heartening signs of the indomitable vigor of contemporary writing at its best. I mean that the form feels so right, as if the strength in diversity has busted loose all binding constraints."

— Peter Campion, editor, poet, and critic